Página principal
Control de la radio TEA5767 mediante RS232.
Programación en Gambas y SDL.

---
Este artículo no sabía si ponerlo en montajes electrónicos o en programación. Pero debido a que la programación en Gambas y SDL me a supuesto el 90% del trabajo, he decidido ponerlo en informática.
El TEA5767 es un integrado que tiene todo lo necesario para realizar una radio FM. Se necesitan unos pocos componentes añadidos para su funcionamiento, de tal forma que se pueden comprar todo el conjunto montado por 3,5€.
Toda la programación del TEA5767 se realiza mediante el I2C-bus.
Las características del TEA5767 son las siguientes:


* High sensitivity due to integrated low-noise RF input amplifier




* FM mixer for conversion to IF of the US/Europe (87.5 MHz to 108 MHz) and Japanese




(76 MHz to 91 MHz) FM band




* Preset tuning to receive Japanese TV audio up to 108 MHz




* RF Automatic Gain Control (AGC) circuit




* LC tuner oscillator operating with low cost fixed chip inductors




* FM IF selectivity performed internally




* No external discriminator needed due to fully integrated FM demodulator




* Crystal reference frequency oscillator; the oscillator operates with a 32.768 kHz clock




crystal or with a 13 MHz crystal and with an externally applied 6.5 MHz reference




frequency




* Phase-locked loop (PLL) synthesizer tuning system




* I2C-bus and 3-wire bus, selectable via pin BUSMODE




* 7-bit IF counter output via the bus




* 4-bit level information output via the bus




* Soft mute




* Signal dependent mono to stereo blend [Stereo Noise Cancelling (SNC)]




* Signal dependent High Cut Control (HCC)




* Soft mute, SNC and HCC can be switched off via the bus




* Adjustment-free stereo decoder




* Autonomous search tuning function




* Standby mode




* Two software programmable ports




* Bus enable line to switch the bus input and output lines into 3-state mode



Recomiendo encarecidamente ver

product data sheet el TEA5767

, para ver todas sus características y modos de programación.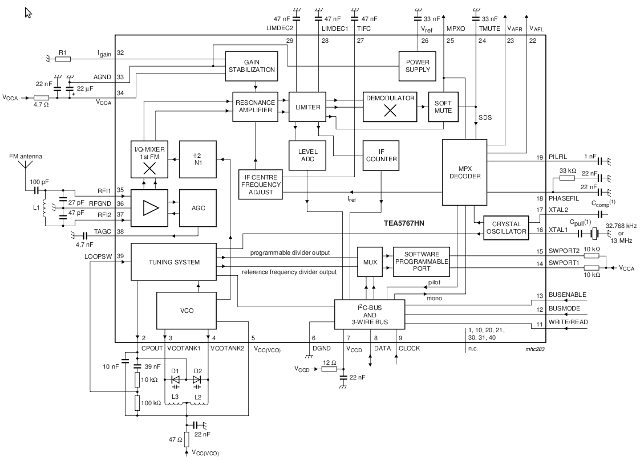 Esquema de TEA5767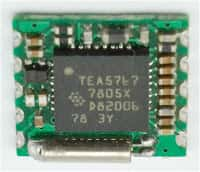 TEA5767 con todos los componentes.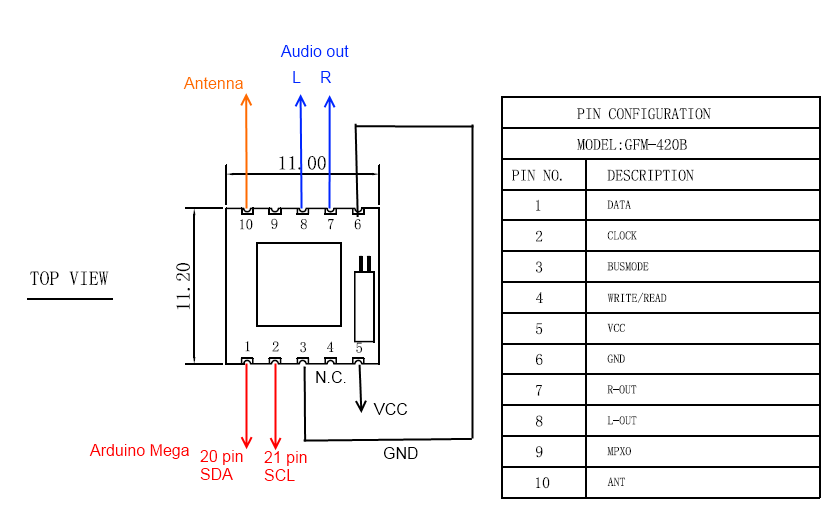 Descripción de la patillas.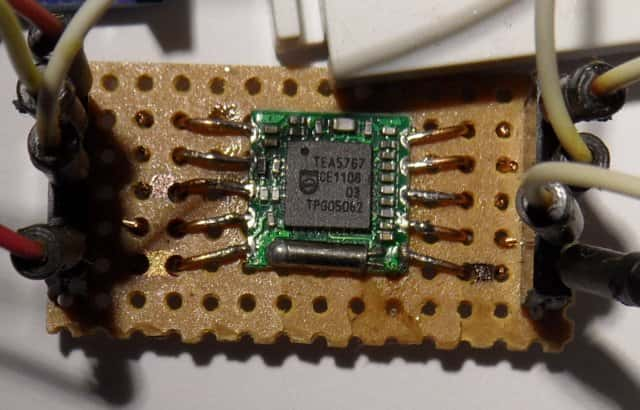 TEA5767 montado sobre un circuito impreso.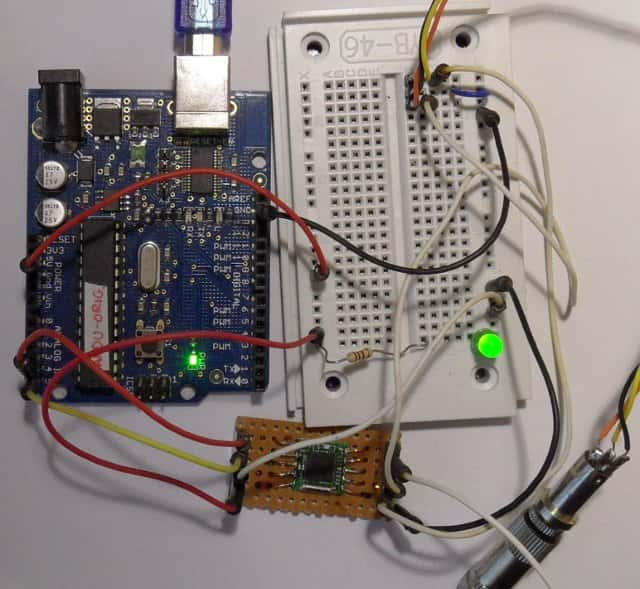 Arduino controlando el TEA5767 mediante el bus I2C.

He creado dos programas, uno en Gambas y otro con la librería SDL, que manejan a través del arduino la radio FM TEA5767.
Su funcionamiento es el siguiente:
El programa en el ordenador mandan a través del puerto USB ordenes al arduino.


DATO1=15




DATO2=117


El arduino las procesa y manda las ordenes oportunas a través de bus-I2C al TEA5767.


Wire.beginTransmission(0x60);




Wire.write(dato1);




Wire.write(dato2);




Wire.write(dato3);




Wire.write(dato4);




Wire.write(dato5);




Wire.endTransmission();



La salida del audio se puede conectar a unos altavoces amplificados de PC, donde se escucha la radio.



Lo que me satisface más, es el poder compilar para las dos plataformas, Linux o Windows, con solo cambiar la directiva

YesWindows 0

por

#define YesWindows 1

en el fichero

define.h

.

La programación se ha realizado en Linux con la IDE geany , y en Dev-C++ bajo Windows.

Archivos_SDL
Programa SDL funcionando en Linux.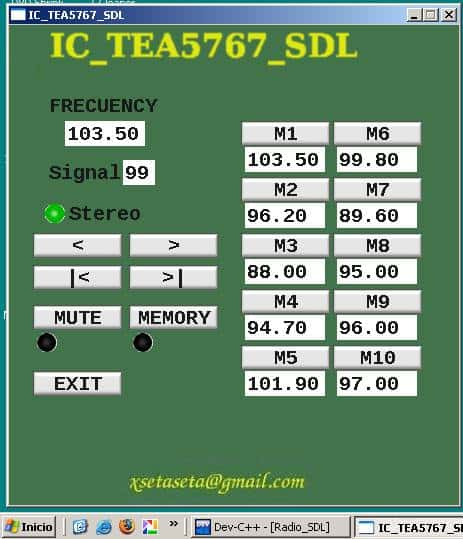 Programa SDL funcionando en Windows.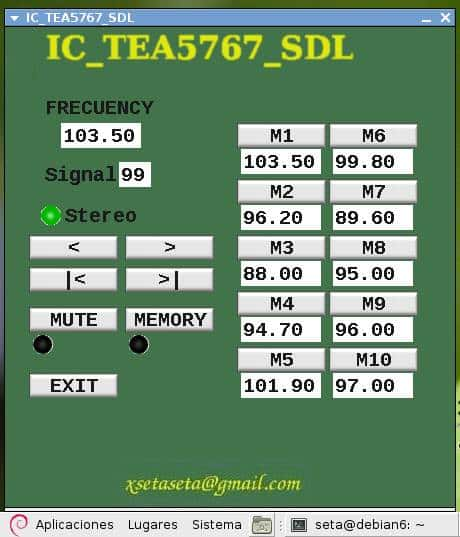 Programa Gambas funcionando en Linux.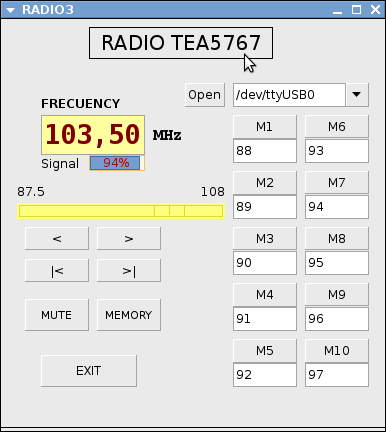 Archivos_Gambas



Programa_Arduino


Saludos.
JUAN GALAZ

Bibliografía:
http://www.doctormonk.com/2012/03/tea5767-fm-radio-breakout-board-for.html
http://www.electronicsblog.net/arduino-fm-receiver-with-tea5767/
http://kalum.posterous.com/arduino-with-tea5767-single-chip-radio-and-no